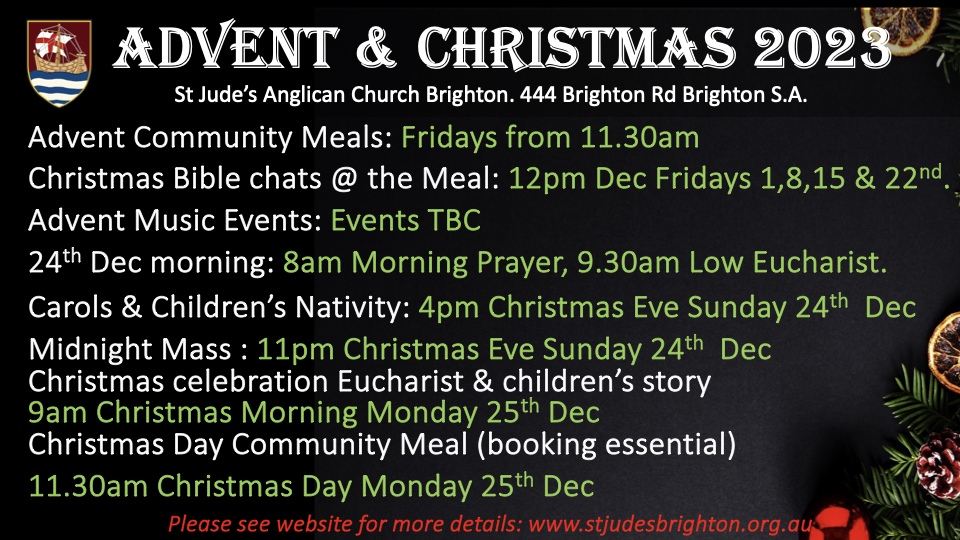 Below you will find a guide to the regular services over the course of a month at St Jude's. There are many additional services and some variations to the below from time to time.
Friday 10.30am Eucharist. A peaceful service with music and a friendly community in the chapel, followed by tea, coffee and the Community Meal.
Sunday 8am Eucharist. Musicians and hymns in the church. A beautiful service to worship and find some peace before the weekend busyness.
Sunday 9.30am Sung Eucharist. Musicians, choir and lively congregation with sung Eucharistic setting and Sunday School.
Mother's Union Eucharist 10am in the chapel. On the last Thursday of the month February- November. Everyone is very welcome.
Morning prayer in the chapel. Services are said on Wednesday and Friday mornings at 9am. All are welcome to join.
Alwyndor Aged Care Eucharist. On the second Wednesday of the month at 10.30am St Jude's provides Eucharistic ministry to residents at Alwyndor.
Healing Ministry with anointing and prayer is offered any Sunday with the Parish Priest without appointment, and occasionally in services.
"St Jude's is…an all inclusive church community"

J. Green