RE SERVICE MARSHALS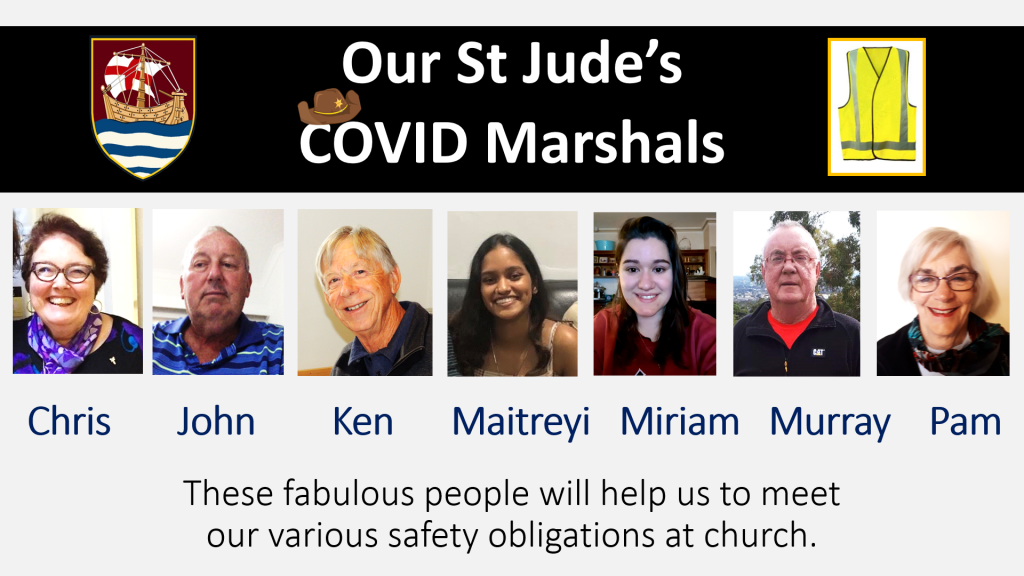 As of the 21st of August 2020 St Jude's will transition from COVID-officers, as have been in place since the start of July 2020, to COVID Marshals as per the new State Government requirements. Our current COVID Offers as well as additional new recruits from the ranks of the Parish Council are undertaking their Marshal training. Training is free, is in line with SA Health directives, and very straightforward. We are grateful for the work of those helping us meet our obligations to keep each other safe at Church.
Information about the Marshal training can be found at the following address www.covid-19.sa.gov.au/recovery/covid-marshals. And general information about the Covid Marshal requirements can be found here.
RE CONGREGATIONAL SINGING
Congregational singing is back on the cards in October!
While following all our good COVID-Safe procedures, we will be able to return to congregational singing in some form by Sunday 18th of October!
The following is advice via the Diocese
"Due to some changes to advice from SA Health, Archbishop Geoff and the Secretary of Synod, Joe Thorp, have decided that parishes should be able to return to singing as a congregation if they choose to.
While this is good news, it also comes with some guidelines. SA Health are at pains to emphasise the need for distancing – at all times but when singing in particular.
Therefore, people who are not from the same household should keep at least two metres distance. The other requirements on building capacity, keeping records of those attending services, the provision of hand sanitiser and the presence of qualified Covid Marshals remain unchanged.
While this is great news and another step towards returning to something like our old lives, we urge everyone to take care and adhere to the guidelines. Should there be cases of community transmission this will need to be reviewed."
AUGUST 2020
Recently the South Australian Government has increased some restrictions. For example, gatherings in residential premises now have a limit of 10 people. For more please see: www.covid-19.sa.gov.au/
Churches have not received new specific advice, other than the reduction of limits on funerals and weddings to 100 max.
At St Jude's since returning to in person worship we have always had our pews and chairs arranged with a huge amount of space per person, well over 4 square metres each and far more than the mandated 2 square metres.
It continues to be our intention to not only fulfil the law but always err on the side of safety. Included below is the safety checklist that is followed and read at every service, as well as the COVID Safe officers who are helping us meet our COVID Safe obligations.
We aim for excellence and ask you to help us meet obligations by not coming to church if you are unwell or should be isolating, by registering for services, and by giving everyone on our site the 1.5 meters distance they need to be COVID Safe. Below are some of our regular safety requirements.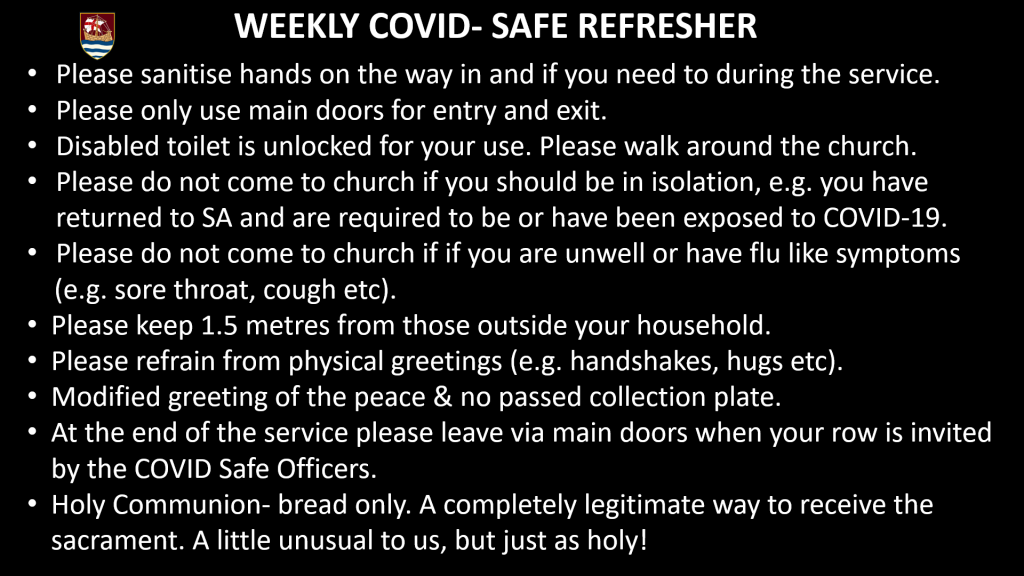 IN PERSON SERVICES HAVE RESUMED! Please click here to register for a service.
You may be aware of some of the cleaning, distance, compliance, safety, and space-use constraints we will need to work within to have face to face worship. However, we believe that we can do this together with an appropriate level of safety, from July 2020.
Please click here to register for a service.
Friday 10am from 3rd of July 2020 in the main church
Sunday 8am from 5th of July 2020 in the main church
Sunday 9.30am from5th of July 2020 in the main church
Office
From July the office will be open for at the usual times, and return to face to face as well as online and telephone support from Rosey. We ask that anyone who has a cold or flu like symptoms, or who should be self-isolating not come on site but access office services via telephone etc.
Online from July 2020
We recognise that some friends have been able to join with us more fulsomely since we moved online, and we do not want to leave these people in the lurch.
We also understand that some people will not be able to come to church on medical advice, or may be hesitant to return in the first weeks. Additionally, the church site will be off limits for anyone with a cold or who ought to be in isolation, so this will mean there are weeks when anyone of us cannot be at church. To support all these realities, we will continue to offer a service every week online too!
More details to follow. Thank you all for your faithfulness and solidarity. God bless you St Jude's and see you soon
Please keep in your prayers:
Those who are feeling anxious and vulnerable across the world. Those who are sick, and their loved ones. Those who are mourning the loss of loved ones. Those who are working in the medical field. Those who are impacted greatly by COVID-19, especially the poor and marginalised. Please pray that Australia will find strength in a compassionate national discourse, at a time of heightened worry and need.
This page contains church- focused, rather than broad health advice. For the latest local health advice please see SA Heath's excellent resources, and for a broader global picture the World Health Organisation.