Please pray for the safety of all workers, and visitors, at St Jude's during the renovations of our church building.
Giving God thanks for life
We give thanks for Winsome Bicknell's life and commend her to God's safe keeping. May her family know your love and peace in their grief. May light perpetual shine on her.
St Jude's intercessory prayer list:
Barbara, Ben & David, Chloe, Chris, Christopher, Don, Eden, Jen, Jim, John, Joyce, Liam, Judith, Michelle, Lesley, Louise, Norma, Pauline, Peter, Robert & Rosie, Sidney, Sue, Sophie, Susie, Trisha, Wayne & Janetta.
Please contact us if you would like to add or remove a name from this list. Please note that Christian names only are included as this information is publicly available.
Let us pray for Hati
Eternal God, send forth your Spirit to encourage and strengthen the people of Haiti in these difficult times. We pray especially for those impacted by the recent earthquake. Encourage and strengthen those who help and support others. In your mercy, receive the souls of those who have died; comfort their families and loved ones. Surround with your presence the sick and suffering. Aid the work of those who still search and rescue. Empower the medical and aid workers and all who labor to heal.
Likewise, inspire and empower the resolve of the nations and peoples of the world to be your instruments of help and healing. Stir up the might of your love and compassion among the nations to rally resources and stay the course until the humanitarian job is accomplished.

Lastly, enfold and uphold the people of Haiti—from the youngest newly born to the oldest among us—in the arms of your love and the strength of your might. This we pray in the name of Jesus Christ our Lord, amen.
-The Episcopal Church- Diocese of Alabama
Let us pray for Afghanistan
Please note the The Diocese of Southern Queensland is providing a prayer service for Afghanistan on Sunday 22/8/21 at 12noon (Brisbane time). The service will be streamed on the Cathedral YouTube Channel:https://www.youtube.com/channel/UCNK4UfKhyzHdskN-s_Q9e4Q.
All-loving God, Your hands have fashioned every lovely corner of this treasured planet, and the beautiful land of Afghanistan is as precious as every other place Your children call 'home'. By its rivers and mountains, its fields and gardens, its busy towns and ancient villages, it is the heart's desire of its people and the place where their lives and loves are nurtured.
We grieve today with those who grieve over Afghanistan, the people who call it home indeed, the people exiled or suddenly having to leave, and the men and women from other countries who have made sacrifices in recent years in the cause of that country's future.
We remember with renewed sadness the loss of lives of military personnel during the years of this country's involvement in Afghanistan, conscious of the questions that must today be troubling the minds of those in our community who were bereaved, those who were wounded on operations, and those who were forever changed by experiences suffered there.
We pray for peace, dignity, freedom and confidence for the men, women and children of Afghanistan; for courage, vision and generosity within the international community responding to such need; and for tranquillity of mind amongst our own Service community and its wider family.
In the name of Jesus Christ, the peace-giver, we pray, AMEN.
– A Prayer of the Church of Scotland

Diocesan prayer cycle: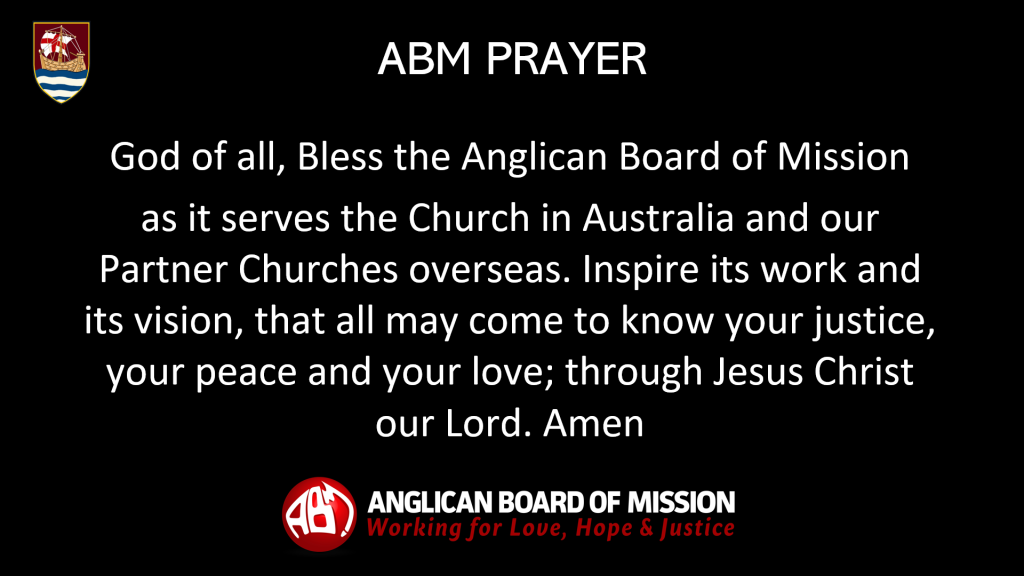 Thank you for keeping up your prayers faithful folks. This is vital at a time like this. Please continue to pray for:
Those who are feeling anxious and vulnerable across the world. Those who are sick, and their loved ones. Those who are isolated. Those who are mourning the loss of loved ones. Those who are working in the medical field. Those who are impacted greatly by COVID-19, especially the poor and marginalised. Please pray that Australia will find strength in a compassionate national discourse, at a time of heightened worry and need.
For hospital staff and medical researchers
Gracious God,
give skill, sympathy and resilience
to all who are caring for the sick,
and your wisdom to those searching for a cure.
Strengthen them with your Spirit,
that through their work many will be restored to health;
through Jesus Christ our Lord.
Amen.
The Following Prayer was passed on for you from Archbishop +Geoff Smith
Almighty and All–loving God,
Father, Son and Holy Spirit,
we pray to you through Christ the Healer
for those who suffer from the Coronavirus Covid–19
in … and across the world. We pray too for all who reach out to those who mourn the loss of each and every person who has died as a result of contracting the disease. Give wisdom to policymakers,
skill to healthcare professionals and researchers,
comfort to everyone in distress
and a sense of calm to us all in these days of uncertainty and distress. This we ask in the name of Jesus Christ our Lord
who showed compassion to the outcast,
acceptance to the rejected
and love to those to whom no love was shown. Amen.
Prepared by Archbishop Michael Jackson- Dublin & Glendalough