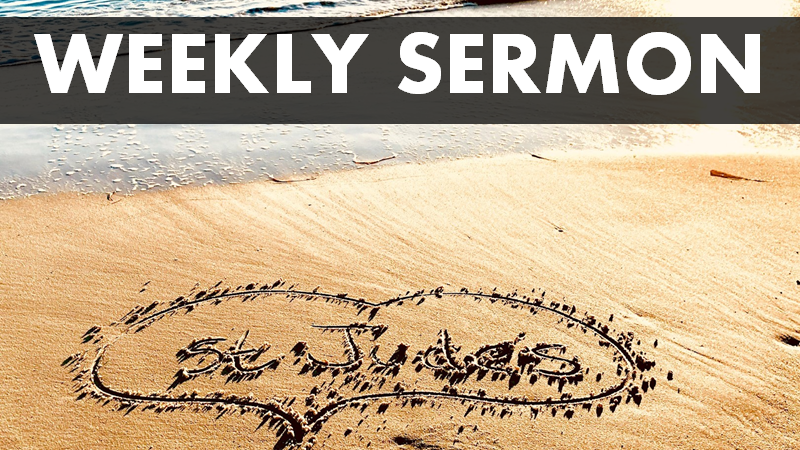 Please find here a list of sermons, messages and homilies with love.
Please download this sermon file for printing above, or read the latest sermon as text below.
READINGS (NRSV):
Colossians 3. 12-17
As God's chosen ones, holy and beloved, clothe yourselves with compassion, kindness, humility, meekness, and patience. Bear with one another and, if anyone has a complaint against another, forgive each other; just as the Lord has forgiven you, so you also must forgive. Above all, clothe yourselves with love, which binds everything together in perfect harmony. And let the peace of Christ rule in your hearts, to which indeed you were called in the one body. And be thankful. Let the word of Christ dwell in you richly; teach and admonish one another in all wisdom; and with gratitude in your hearts sing psalms, hymns, and spiritual songs to God. And whatever you do, in word or deed, do everything in the name of the Lord Jesus, giving thanks to God the Father through him.
John 19:25-27
Meanwhile, standing near the cross of Jesus were his mother, and his mother's sister, Mary the wife of Clopas, and Mary Magdalene. 26When Jesus saw his mother and the disciple whom he loved standing beside her, he said to his mother, 'Woman, here is your son.' 27Then he said to the disciple, 'Here is your mother.' And from that hour the disciple took her into his own home.


SERMON
In the name of the one God, Creator, Redeemer and Holy Spirit. Well – we are living in uncertain times, are we not? Everywhere we turn—amongst our friends, on the television news, or on social media—everyone is talking about the coronavirus. Fears are rising around the world. People who have never felt anxious before are suddenly weighed down with worry and are not sure what to do next. I am sure you must feel a little anxious. Some schools in Australia have been closed, sporting events canceled, and many people working from home. Some people are stockpiling food, hand sanitizer and toilet paper. I was at the supermarket during the week on what I would have thought was a quiet day, and the supermarket resembled the last minute buying that occurs on Christmas Eve.
It is interesting to note that the early Christian church and indeed the church through the middle ages was no stranger to plagues, epidemics and mass hysteria. They experienced their fair share of uncertainty and even panic. But throughout the ages in the Christian church we hear the repeated message that no matter how confusing or scary a crisis becomes, fear should not have the final say. In the letter of John we read, (and this is not part of todays reading) but in the letter of John we are reminded,
God is love, and those who abide in love abide in God, and God abides in them. There is no fear in love, but perfect love casts out fear.
Our hope is built on the love of God, made known to us through the person of Jesus Christ, and we have been called to share that love with the world. And that's exactly what we need to be doing in the coming weeks and months as more and more people in our community are in need.
Today is Mothering Sunday. Interestingly, Mothering Sunday began as an explicitly religious event of the 16th Century, with no connection to mothers at all. The word "mothering" referred to the "mother church", which is to say the main church or cathedral of the region. It became a tradition that, on the fourth Sunday of Lent, people would return to their mother church, either the church where one was baptized, the local parish church, or the nearest cathedral for a special service. It became something of a holiday event, with domestic servants traditionally given the day off to visit their own families as well as their mother church.
A few days ago I looked up the word, mothering, even though the word is familiar to us all. I found, "mothering is the process of caring for people in the way that a mother does. And today I am feeling that this is what is being asked of us at this point in time. To care for one another as a mother cares. Mothers protect, they feed, they encourage and they nurture. Mothering is a specific kind of loving and today more than ever before perhaps in our history we are being asked to love in this way.
We do need to protect one another, by being cautious of our hygiene practices.
We need to be mindful of those who are struggling. The current situation in which we are living can make us all anxious. But for some, there is even more reason to be anxious. Jobs are being lost, people are being stood down, elderly people cannot compete in the supermarket chaos. Its wonderful to see that you keep stocking the community pantry because we know there are people out there for whom it is a great blessing. And this is only in our own community- I ask you spare a thought for the displaced people of Syria and Yemen, where war has already ravaged their homeland, before this added health risk.
Yes, we are being asked to love in this special mothering kind of way. Paul reminded the people of Colossae, "Clothe yourselves with compassion and kindness". Its a rather beautiful image- to clothe oneself in kindness.
In our gospel reading, Jesus is close to death in such a cruel way- on a cross and yet he still called his beloved mother and his friend John to be mindful of one another.
To his mother, he said, Here is your son, and to John, 'Here is your mother.' And we learn, from that hour the disciple took her into his own home.