A handful of St Jude's many community-focused outreach ministries:
St Jude's Church has a long association with the Anglican Board of Mission and supports two projects each year, one domestic and one overseas. This year we are throwing our support behind the Kenyan Disability Inclusion project, and closer to home Indigenous Youth Engagement project. Please visit the Anglican Board of Mission website for more details on these worthy projects at www.abmission.org.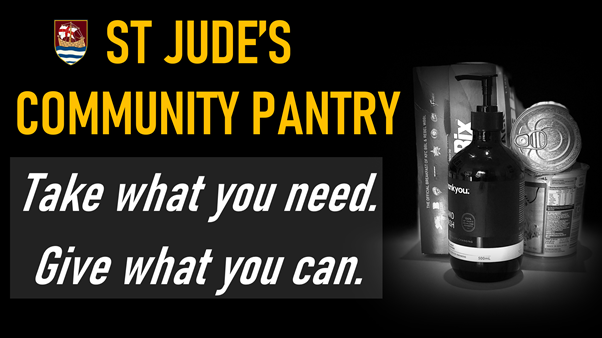 St Jude's Community Pantry aims to offer emergency food and toiletry supplies for anyone in need, without making any demands on the recipient. The pantry is to be stocked by locals as well as by members of the church. Please read more here. The pantry will be located on the side of Grundy Hall, located at 444 Brighton Road Brighton SA.
Breakfast Club at Brighton Primary School (BPS)
On Tuesdays during term time at BPS, St Jude's supplies a free weekly breakfast to feed hoards of primary aged children. St Jude's fosters a kind and dynamic culture at Breakfast Club with volunteers priding themselves on their caring service of the MANY children who come for breakfast each Tuesday.
Community Visitors Scheme (CVS)
Every week throughout the local area lonely Australians are being visited by St Jude's Community Visitors. They volunteer their time to support the vulnerable and isolated. This is a vital ministry that is always looking for excellent new visitors.
Music Ministry
Music is a big part of who we are at St Jude's. Our musicians and choristers reach out to bless the community with the gift of music during the Spring Series Concerts and Marion Shopping centre carols. Our musicians are generous with their time and energy and support a range of parish and community endeavours.
Extended Holy Communion/ Anointing/ Nursing Home/ Ministry with the sick.
St Jude's clergy and laity reach out to share God's love for those who have become unable to come to services, or members of the community in times of need.
Collections for those in need
In addition to our own Community Pantry project, St Jude's collects food, money, and toiletries every week of the year, supporting the life-giving work of ABM, Anglicare and other agencies. We also collect toys for overseas Christmas gifts, as well as toys and food over Christmas for needy Australian families. We have an extensive list of other charitable collections that take place throughout the year- often flagged in the pew sheet.